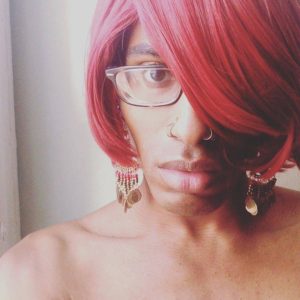 Venus Selenite, DC-based poet and social critic from Baton Rouge, Louisiana  and self-described lesbiqueer has been in the poetry circuit since her early to mid teens. So it should come as no shock that she's harnessed everything she's learned and experienced to focus it into her debut book of poetry: triger.
And yes, the 't' is lowercase, thank you very much. *Nail polish emoji*
A Black nonbinary trans woman who's words can bring comfort or start fires, Venus agreed to let me conduct this interview on behalf of Contemporary Queer in celebration for trigger's grand debut!
What is trigger?
It's my debutante ball, except there aren't any waltzes, gowns, or regulations for applause. I've envisioned a club where twerking, voguing, and gyrating occur, where the dances of resistance, war, erotica, and ceremony are being performed concurrently. In attendance are my ancestors, my great-grandmother, my sisters who have been murdered, Marsha P. Johnson, all of us who are fighting, both in the present and in the next life.
But, of course, trigger is a book of poems, my first literary work, and when I think of the summarized content, it is a ball, the most celebratory and loud ball shying away from the politics of respectability and desirability. When the concept of trigger was conceived, so was the coinciding trigger Tour, where I intend to travel, read/perform my work, and share space with communities that are starving for affirmation. My intentions for the literature and performance are encapsulated in jubilee and disruption.
What made you write it?
On April 1 of this year, there was a moment when I was pacing my house for no reason, and then the word "trigger" just appeared. I had just completed studying and crafting new work in an intensive writing workshop with Winter Tangerine, an independent literary and arts journal. In an instance, I announced on social media through a letter that I was publishing a book. My poems, with the exception of the last one in trigger, were already written and awaiting to undergo revisions and edits.
This volume was born at the right time. trigger was delivered as a response to the genocide of trans women of color in the United States and to the minimal presence of published literature by trans writers, in particular Black trans woman writers. This collection was a mighty undertaking and it is my contribution to our canon. White supremacy, institutional racism, and transmisogyny show me everyday that I'm not supposed to exist, or be sustainable, or to write anything. trigger declares I'm here.
There have been several trans women of color to publish poetry before me, but I recognize the positionality of being a Louisiana native and an artist in Washington, DC is historic in its own right. These poems are an additional (re)source of encouragement, history, and truth. We must take all literature and art created by trans people with nuance. All experiences coexist in the same vein, but they are different and are our own.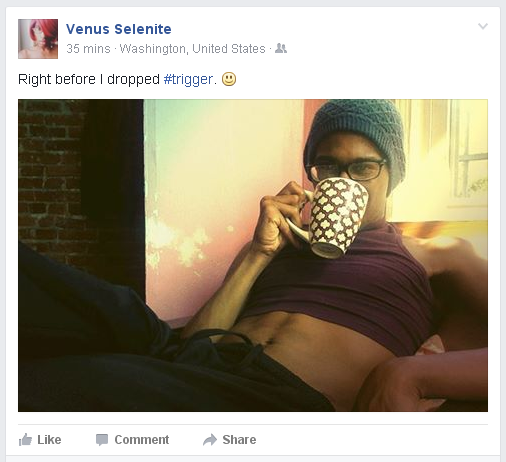 What or who influenced your decision to create?
It's a cliché and typical answer, but I must credit my beginnings. I've always had a strong relationship to language and imagery. When thinking about my childhood, my favorite memories are being one with notebooks that assisted in my learning of the English alphabet. For that time, it was escapism. As a Black queer non binary trans woman approaching 26 years old, creation is both resilience and resistance.
Creation has taken me to literature, performance, erotica, and pornography, all areas which are very vital to my path. I'm no longer seeking or demanding representation from the worlds that exclude people like me; I'm creating it. One of my the world's most immaculate writers, Toni Morrison once said: "If there's a book that you want to read, but it hasn't been written yet, then you must write it. I've spent most of my life reading books by cis and straight writers and trigger rebels against the decentering of trans and queer voices.
I take production and creation seriously. It is never light. It is the same habit from when I was a teenager; I create out of anger sometimes. In fact, trigger was finished after I learned Merdeces Successful was reported as the 10th trans woman of color murdered in this country in 2016. I remember drinking moscato in sadness, then working on the final revisions before going into my formatting phase. The news of her death didn't stop me from finishing.
What are some things readers (or listeners) can look forward to?
For trans women of color, it continues the determination of controlling our narrative and I hope more of us are encouraged to produce and distribute our own work without the necessity of the cis gaze. This book is also for queer people of color. These poems are for everyone who experiences oppression at the intersections. I did not hold back. The right travels were taken. There's also a little shade. Just a tad bit. I live for the shade.
What is it like to do you in a society that has a road but puts obstacles in your way?
I'm not supposed to do myself. It's sanctioned in the laws, attitudes, history, and system of this world, not just my native America. Fuck systemic authority. Myself is going to happen regardless. I can overcome all obstacles. This is the debutante ball. Next? Homecoming.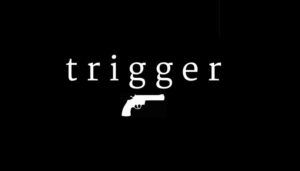 ---
You can secure your copy of trigger here! You can also find Venus online at her website, on Facebook or Twitter where you can book her during her tour! Venus is based in DC.