Mainstream media has come a long way since the days where it was deemed acceptable to make awful jokes at the expense of queer and trans people. The media landscape is far more representative of the queer and trans people of color to whom they cater. And while there is always room for improvement, there should also be space to celebrate those entertainers who have found and thrived in an industry that consistently tells them they aren't as amazing as they have consistently proven they are.
Laverne Cox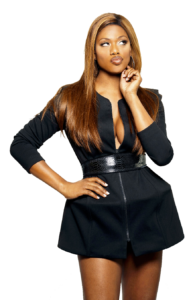 Laverne Cox became the first openly transgender person to be nominated for Primetime Emmy in acting. Best known for playing Sophia in Orange is the New Black on Netflix, Laverne gained a following online for her trans advocacy and went on to be the first openly transgender person to snatch a cover on TIME Magazine.
But despite having a filmography that dates back to 2000 and people that love her twice the world over and a list of "firsts" that demonstrate her hard work as a trailblazer, life wasn't always stomp and slay. As a child in Mobile, Alabama, Laverne was bullied for being a "sissy" and attempted suicide at 11 years old. She told ABC News in a 2014 interview:
"I was bullied and I internalized a lot of shame about who I was as a child," Cox said. "Bullied because I didn't act the way someone assigned male at birth was supposed to act. And so I was called sissy, I was called the F-word. I was chased home from school practically every day. There was always a kid or groups of kids who wanted to beat me up," she said.
[…]
"I'm really, really happy that I survived. If I didn't survive, I wouldn't be here today."
What makes Laverne such a hero isn't only that she is gracing the covers of your magazines and screens. She's a hero because she did it without compromising who she is. Through creativity and hard work, she navigated a system that would seek to shut her down. And she did it by speaking up and putting in the work.
Oh, and ya girl produced her own documentary: Laverne Cox Presents: The T Word.
Wilson Cruz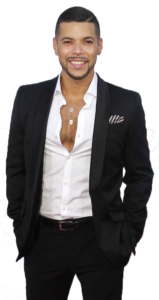 The first actor to play an openly gay character in a leading role in a TV series (My So-Called Life), Wilson Cruz was never one to shy away from who he was. Starting his acting career in 1994 and still doing it while looking like he sipped from the fountain of eternal youth, Wilson has always taken roles that showed queerness in a positive light–for example, his notable time on Broadway as Angel in RENT.
But his impact isn't only limited to the screen and stage. Wilson is a huge advocate for queer youth, queer youth of color especially. Having been thrown from his home at 18, Wilson is no stranger to homelessness and the struggles that our youth face without support systems. He supports the most vulnerable young queer people and is a symbol of what can be achieved through dreaming and acting on them.
Apart from being a speaker and doing community uplift, Wilson is a part of GLAAD–the Gay and Lesbian Alliance Against Defamation–and has been on its board of directors as well as in a leadership position on the staff.
Margaret Cho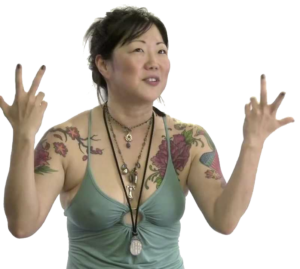 Margaret Cho can best be described as the type of person who thought "hmm, I wanna do that" and then did it. And did it again. And again. She's most famous for being a comedian, but she's also an actor, designer, author, singer-songwriter, and advocate. And she's not quiet about any of it. In fact, her in-your-face-stating-the-facts style of standup gained her a huge following among queer folks–especially queer folks of color. Trailblazing paths for Asian-Americans and women in entertainment, Margaret is a multi-media force that would not be ignored.
After having a successful standup routine for a while and gaining popularity, top Hollywood producers created a TV show "All American Girl" based around her comedy, but their inability to navigate race and sexuality without stooping to crude stereotypes–which, ironically, is what Margaret fought against in her acts–caused it to be cancelled after one season, leaving Margaret to pick up the pieces while suffering depression.
Margaret recovered and came back stronger than ever, appearing in a slew of shows, going on tours, writing books, creating music and fashion and advocating for the rights and humanity of queer people. Arguably the most famous Asian-American woman in entertainment, Margaret Cho is a hero for her steadfast tenacity and unbridled creativity. She never gave up creating community, bringing laughs, or doing her best and inspiring that same creativity in her fans.
George Takei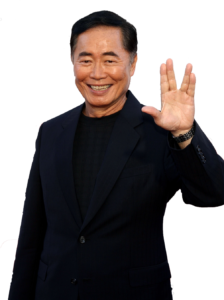 George Takei is America's Granddaddy and you can't tell us any different. From his days as Sulu on Voyager to his current pastime of entertaining the world through hilarious and uplifting memes on social media, George is everywhere and anywhere you look. And we love the view!
George's filmography spans more than half a century and his open activism just more than a decade, though his identity as a gay man had been an open secret in Hollywood since the seventies. When asked, he said: "It's not really coming out, which suggests opening a door and stepping through. It's more like a long, long walk through what began as a narrow corridor that starts to widen."
Surviving the horrors of the Japanese internment camps during World War II as a child, George overcame hostile xenophobia and racism to become the global icon he is today, breaking barriers for queer and Asian American people in film and entertainment in his own way, and taking us with him. And we can't stress this enough: Anybody who can bring joy for as long as George has deserves honors upon honors.
The ConQueer Tea
A common thread we've found among these icons is that, despite navigating transphobia, homophobia, (cis-)sexism, xenophobia and racism to the point that they could be celebrated widely, they never lost sight of the bigger picture. They aren't selfish enough to believe that institutional oppression doesn't exist, and instead they use their celebrity bring attention to those who come after them. They speak out and get involved with their communities and the people that need them the most. This is why they're heroes.
Who are your heroes? Tell us in the comment section below, and don't forget to show your support by snagging  a cute little Contemporary Queer mug!